Hello. I come humbly before this forum in hopes for advice!
My Apache '76 Mesa hard-sided pop-up (new to me this summer
) is still popped up, sitting on a ridge, and NC is expecting very frigid winds and temps.
I am three hours away and have not been able to get back to winterize and it is plaguing me! not to mention my brand new generator, which now has not been run since the first of November.
Have i ruined my pop-up and generator? i keep watching the weather, but has been storming or freezing whenever i get a window. my next window is daily high 43F, but sunny ( pupper is at 2k elevation) or a week after that with 55F, but rainstorms.
What should or should i not do? Colder but sooner? or warmer but rainy? How to get rid of gas and oils from generator? just bring it home to my garage and then deal with it? or run it out although it's been sitting a good two months?
And do i pop the camper down? or let it stand tall through Jan and February? there's no water system in it.
Oh, i feel I have let my
PUP
down. Even worried about the criticisms I may get...but I am here to learn, even if this is going to be a costly lesson. I'm not even sure what details to include to ask for help. Any advice most humbly appreciated!
generator is under a play tent (waterproofed!) and also has a propergenerator cover on it (hard to see)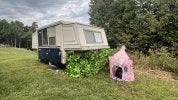 Apache at 2k elevation in blue ridge mtns, up a dirt/gravel rd, somewhat protected by trees, and will always live there (plans for proper pad if she survives the winter
) next year.
Jane K.,
North Carolina